The One Simple Word Your Profits Hang On: "Maintenance"
Show Your Customers the Importance of Maintenance
Promote Maintenance as a Strategy to Lower the Total Cost of Vehicle Ownership and Gain Loyalty
Keep Your Auto Repair Shop Profitable by Tracking Maintenance Needs
Maintenance, Maintenance, Maintenance: That is Your Key to Profitability
Guarantee Your Auto Repair Shop Profitability by Pushing the Importance of Maintenance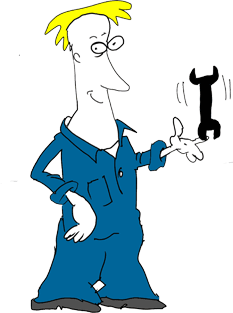 To remain competitive, you have to keep up to date with the latest and greatest in your industry.  The technical training and diagnostic tools you need to accomplish this come with a cost.
In order to afford these necessary tools and training, your business needs to be profitable, right?
The key to automotive service profitability lies in one thing – build a clientele that understands the value of holding on to their existing vehicles as a strategy to reduce depreciation losses. When your customers continue to come back for routine maintenance – in-between repair work – you're guaranteed a steady stream of business.
Times have changed…and so have vehicles.
Today's vehicles are made differently than the vehicles of the past – beyond the body styles and new technologies! In the 90s, people were better off purchasing a new vehicle once their odometer hit 100,000 miles.  Now, a well-maintained car can be expected to get up to as many as 250,000 miles or more before it's time to call it day.  (Notice the emphasis on "well-maintained?") No car will see 250,000 miles if it isn't taken care of. That's where you come in!
Educate your customers and help them delay vehicle replacement with regular service.
You can persuade your customers to buy into maintaining their vehicles by teaching them about the Total Cost of Ownership. According to the AAA, the cost of going to the dealership and replacing a vehicle prematurely is
Two and a half times more expensive than all the insurance payments made during the life of the vehicle!
For this reason, good shops help the vehicle owner extend the useful life of the vehicle they own.  Also, explain that vehicles are not free to operate. There are wear and tear of parts, lubricants, and fluids that need regular replacement. The idea is for consumers to understand that they'll pay less to own a vehicle over its lifetime if they invest in maintaining it!  They'll also be making their car safer and keeping the resale value up.
Once they understand, they'll be turning to their trusted auto mechanic for help, and that's you!
Guaranteed business:
Pushing the importance of maintenance is the key to running a profitable shop.
This provides the capital you need for training materials and the tools that will keep you at the top of your game!