Slow on Monday? Be slammed by Tuesday!
Service-Intel text "Fill up my bays" campaigns are one click away. What are you waiting for? Start your 14-day trial in minutes.
SI syncs shop data
All detailed service history is organized into 40 categories predicting all service needs.
Free Training
We provide free training webinars. To get results, just print service-need report at vehicle drop-off.
Superhero Sales
You'll be amazed at how fast your profits grow after implementing a few small POS & CRM changes.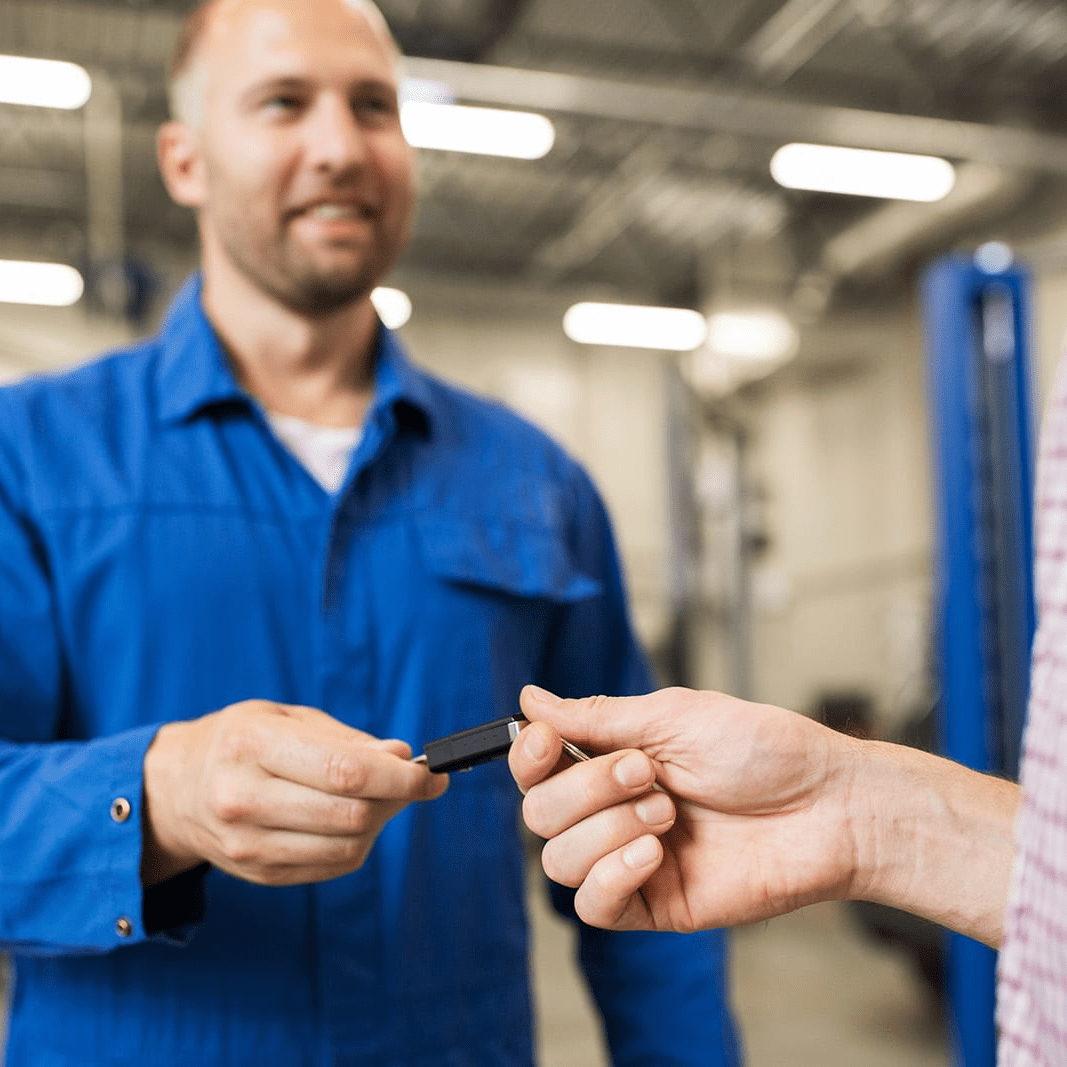 A CRM Maverick out of the box
Service-Intel CRM (Customer Relationship Management) is preconfigured and totally automated. Upon activation and your approval, SI accurately communicates service needs, collects Google reviews, and logs appointment requests.
Marketing + Texting App + Service Management
Not all CRM are created equal. Service-Intel CRM ages the shop's service history based on each vehicle's daily mileage. Customer communication is authoritative, accurately communicating via text, emails, and postcards.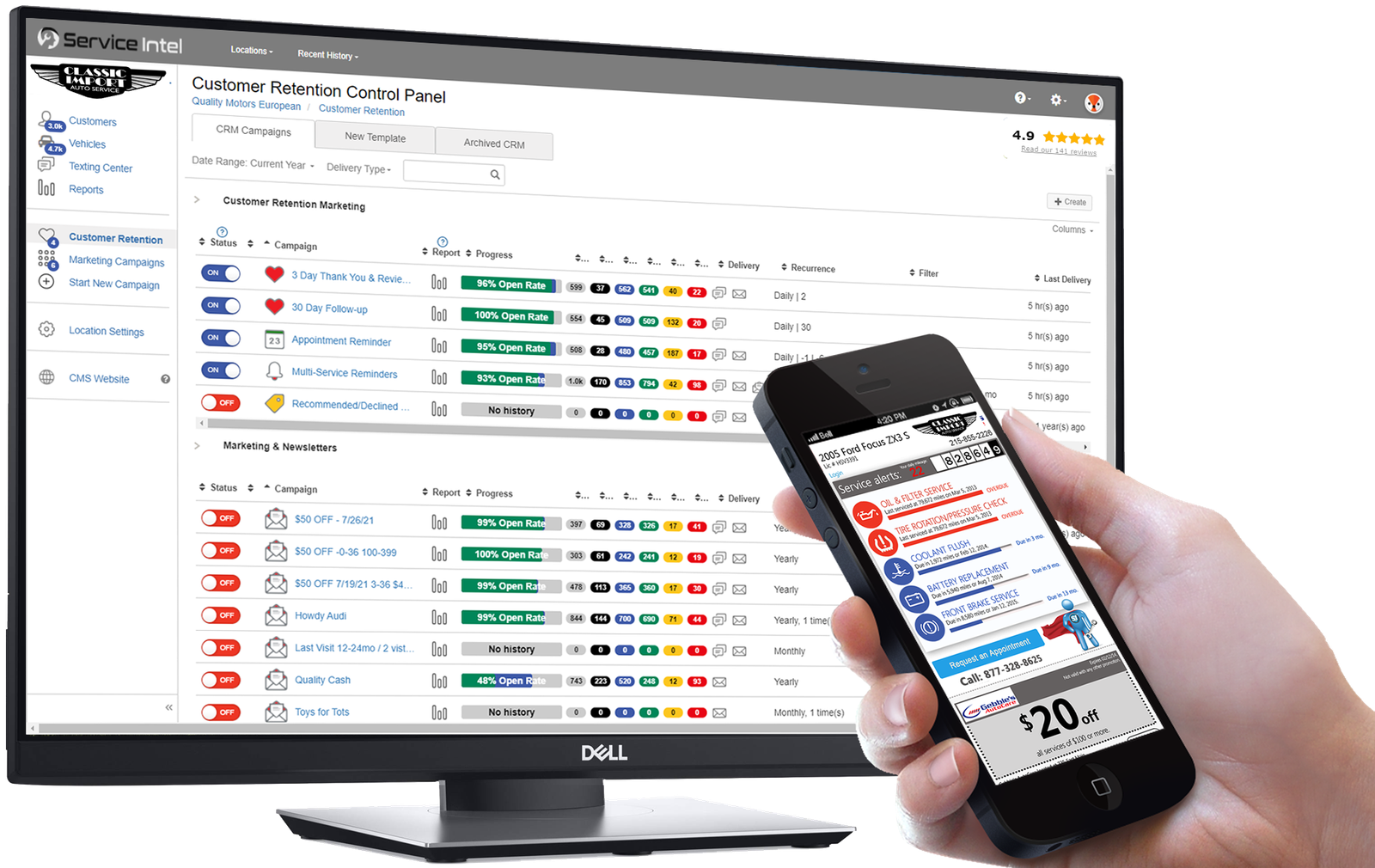 3 Steps to Sales Nirvana
Google Reviews, Appointment Reminders, Thank You, Recommended Work, Newsletters, and Multi-Service Reminders
Service-Intel CRM is a communications Swiss army knife orchestrating emails, SMS, and postcards ultra-accurate service needs predictions.
Customers are thanked and requested to leave a review. But new customers don't get review requests until after their 3rd visit.
Increase your car count with more appointment requests. Trust-worthy fact-based CRM communication pays!
Get Started in About 30 Minutes!
Need Assistance? Don't worry, we are here for you.
SI CRM OUTPERFORMS ALL OTHERS
Service-Intel CRM
This dependable tool allows you to access and manage emails, SMS, and postcards in one area making you more efficient on google reviews, appointment reminders, thank you notifications, recommended work,newsletters and multi-service reminders.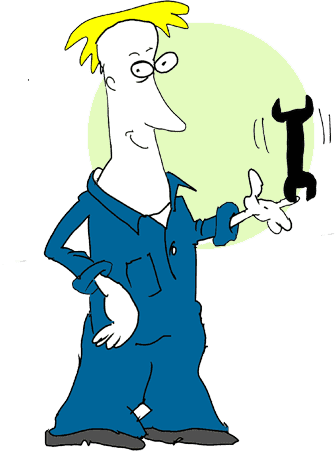 2-Way Unlimited One-on-One Text Messaging
Unlimited Mobile-Friendly Emails
Recommended/Declined Work Reminders
Customer Reviews and Testimonials
Thank-You Campaigns
Customer Newsletters
Appointment Scheduler with Website Integration
Pre-Scheduled Year of Seasonal Campaigns
Google/Facebook/Yelp Reviews Live Feed
Set-up Support & Marketing Training
Service Categories & Set-Up Customizations.
500/mo. FREE Automated Texting. Extra SMS $0.07/ea.
Optional Postcards incl. postage $1.19/ea
Targeted Marketing (Requires SI POS Bundle)
40+ Service-Need Targeted Marketing
Service-Need Daily Alerts (Additive Warranty Tracking)
Get Started!
No Risk 14-Day Trial
Any questions or remarks? Just write us a message!