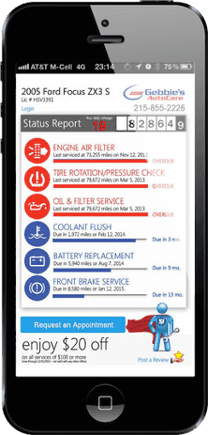 A smart CRM for your workshop that features personalized service recommendations generates customer trust. Trust is the foundation upon which automotive shops can build a storehouse of loyal customers, who recommend the shop to family and friends. And the cycle repeats.
So there's a lot riding on your CRM.
Remember that customer who got a personalized service recommendation from your shop's smart CRM, and she was able to avoid an air filter replacement?
Well, let's look deeper at what happened in this transaction.
Your accurate, trusted service recommendations help the customer in a few ways:
She maintains a safe vehicle.
Her vehicle's resale value grows.
You're helping her cut costs.
She will be more likely to buy a service you recommend.
This transaction built trust in the customer. As a result, she'll keep coming back to you—instead of looking to the mechanic down the street. You've effectively put a stop to the madness and frustration customers experience in the search for a trusted mechanic.
But there's even more.
Because she now trusts you, she'll recommend your shop to others.
As you do this for each of your customers, you'll quickly build a storehouse of loyal, repeat customers who will sing your praises to every person with a vehicle problem or repair that they come across.
With eAutoClub's dynamic CRM, you get a service that—at drop off—provides both the service writer and vehicle owner with ultra-accurate service alerts, based on the shop's service records, time elapsed and miles driven. Contact us for more information!
blog.AutoSI Auto Pro.com | Testimonials since 1999
SI Auto Pro "Auto Care Made Easy", previously licensed and distributed under the Mitchell1™ and Snap-On™ brands, is designed for automotive service and tire dealers using Mitchell1 Manager™/Shop Key™, R.O. Writer™, AllData™, MaxxTraxx™, Costar™, Lankar™, PACE Yes™, NapaTracs™, and other shop management computer systems.