Marketing Training
Targeted Marketing Promotions For Automotive Repair Shops
[su_row][su_column size="1/2″][su_button background="#f4f4f4″ color="#666666″ size="6″ wide="yes" height="40px" center="yes" radius="0″ url="https://service-intel.com/training/deliver-accurate-relevant-timely-communication-to-your-automotive-repair-shop-customers/" ]Back[/su_button][/su_column] [su_column size="1/2″][su_button background="#f4f4f4″ color="#666666″ size="6″ wide="yes" height="45px" center="yes" radius="0″ url="https://service-intel.com/training/increase-auto-repair-shop-sales-from-within-your-own-customer-base/" ]Next[/su_button][/su_column][/su_row]
As a shop owner, you can learn a lot from fisherman.
You see, fishing changed overnight with the introduction of sonar technology.
Fisherman could see where the fish were under the water, and increase their yields.
They were breaking every record in the book. And after fishing with sonar, there was no going back.
That's how your shop should look at automotive service.
You already have sonar capabilities in your service history. You just need to use it in the right way.
Maybe you have 10 years' worth of service history. But it's just lying there, doing nothing for your bottom line.
The average shop, however, has half a million – or more – line items. You can search for every customer that received a cabineer filter and sort the data based on the amount of time and miles that have lapsed since it was last changed.
With this information, you can create a targeted marketing campaign toward your 700 customers that need the service, instead of all 7000 customers in your database.
This approach helps you save money on marketing, it won't disrupt the customers who don't need the service, and it will be a game-changer for your shop.
Are you ready to do targeted marketing and fish with the big buys?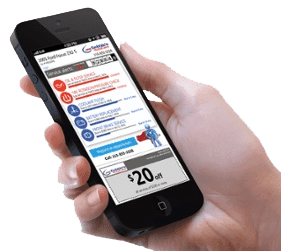 eServiceIntelligence "Auto Care Made Easy", previously licensed and distributed under the Mitchell1™ and Snap-On™, adds machine intelligent CRM that mimics service-writer maintenance tracking. It is designed for automotive service computer systems like Mitchell1 Manager™/Shop Key™, R.O. Writer™, AllData™, MaxxTraxx™, Costar™, Lankar™, PACE Yes™, NapaTracs™, and others. No data entry required.
Management Training
Marketing Training
Sales Training