Marketing Training
Increase auto repair shop sales from within your own customer base
[su_row][su_column size="1/2″][su_button background="#f4f4f4″ color="#666666″ size="6″ wide="yes" height="40px" center="yes" radius="0″ url="https://service-intel.com/training/targeted-marketing-promotions-for-automotive-repair-shops/" ]Back[/su_button][/su_column] [su_column size="1/2″][su_button background="#f4f4f4″ color="#666666″ size="6″ wide="yes" height="45px" center="yes" radius="0″ url="https://service-intel.com/training/how-to-increase-monthly-car-count-in-your-auto-repair-shop/" ]Next[/su_button][/su_column][/su_row]
Love it or hate it, shop owners can learn a lot from Wal-Mart.
Case in point:
Wal-Mart noticed that diaper revenues surged around midnight, along with beer sales. Digging into the data, they discovered that husbands were heading to the store to pick up diapers, but also grabbing a six pack at the same time. In the hopes of boosting sales even more, Wal-Mart positioned the diapers and beer beside each other. Sure enough, beer sales continued to climb.
This is a great example of how data can inform your efforts to increase sales.
You just need to use your database. If you have a vehicle that's been to your shop eight times but you've never sold services like new windshield wipers, a tire rotation or air filter, you've missed a golden opportunity to increase sales.
Without access to this valuable data, you'd never know about this missed opportunity.
When your software can analyze and data-mine services for part and lubricant/fluid replacements, you can easily see where services are necessary. In addition, this kind of promotion helps customers see that you aren't out to sell them a service they don't need. This is the key to building value, so that customers trust your recommendations and purchase more.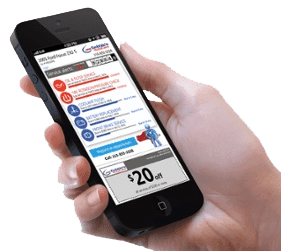 eServiceIntelligence "Auto Care Made Easy", previously licensed and distributed under the Mitchell1™ and Snap-On™, adds machine intelligent CRM that mimics service-writer maintenance tracking. It is designed for automotive service computer systems like Mitchell1 Manager™/Shop Key™, R.O. Writer™, AllData™, MaxxTraxx™, Costar™, Lankar™, PACE Yes™, NapaTracs™, and others. No data entry required.
Management Training
Marketing Training
Sales Training