Marketing Training
Deliver Accurate, Relevant & Timely Communication
[su_row][su_column size="1/2″][/su_column] [su_column size="1/2″][su_button background="#f4f4f4″ color="#666666″ size="6″ wide="yes" height="45px" center="yes" radius="0″ url="https://service-intel.com/training/targeted-marketing-promotions-for-automotive-repair-shops/" ]Next[/su_button][/su_column][/su_row]
Your customers want to hear from you.
Research shows us that only 8 percent of customers do not want to receive any marketing promotions from businesses.
That leaves 92 percent who want to hear from you.
Now, there's a multitude of ways through which you can communicate:
Emails.
Texts.
Postcards.
And more.
The most important factor you should consider is not necessarily HOW you communicate.
It's WHAT you communicate.
And that's the difference in a successful communication between you and your customer.
Taking it up a few notches
The difference between a standard marketing communication and using service intelligence to inform targeted marketing promotion makes all the difference. And it could turn your shop around.
You can look in your database and determine a range of time to identify every vehicle that received a synthetic oil change.
With this list, you create a promotion to remind customers that it's been so many miles since the last service and that it's time to come in again.
That's a standard marketing communication.
And to be honest, it doesn't work that great, does it?
Here's how a targeted promotion works:
First, look at the previous instance of the specific service.
Age the amount of time that has passed to exclude people who don't drive frequently enough to be due yet for the service – and any other factors.
Send out targeted promotions to the narrowest group of customers that truly warrant the service.
This way, you don't waste money promoting the service to customers who don't need it.
Communicate with your customers in a way that demands a response. After all, they're waiting for you to reach out.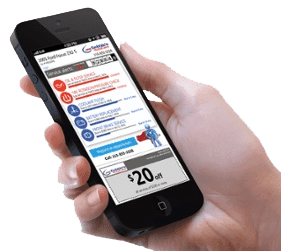 eServiceIntelligence "Auto Care Made Easy", previously licensed and distributed under the Mitchell1™ and Snap-On™, adds machine intelligent CRM that mimics service-writer maintenance tracking. It is designed for automotive service computer systems like Mitchell1 Manager™/Shop Key™, R.O. Writer™, AllData™, MaxxTraxx™, Costar™, Lankar™, PACE Yes™, NapaTracs™, and others. No data entry required.
Management Training
Marketing Training
Sales Training